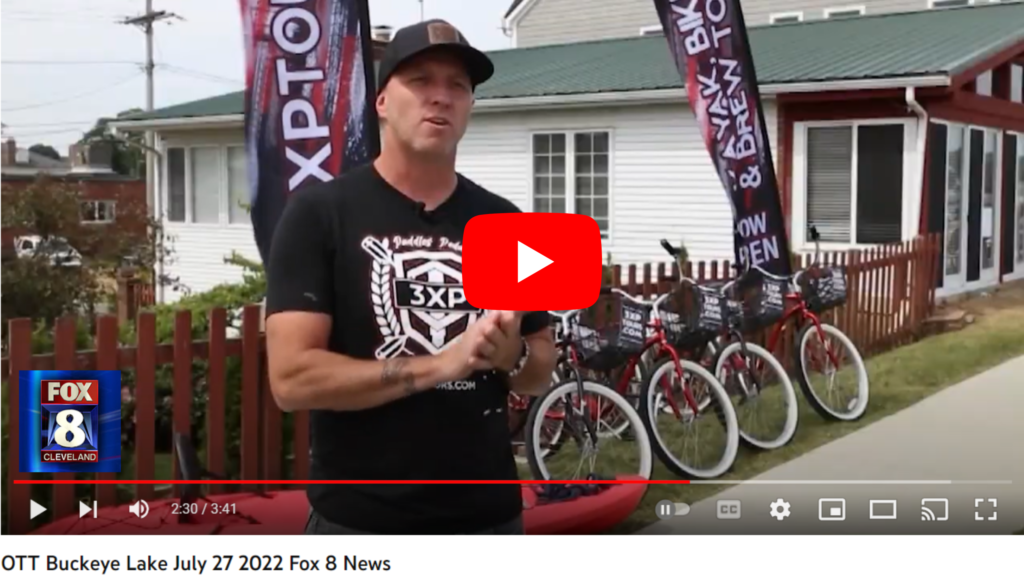 New alcohol-friendly kayak tour business opens
APRIL 25, 2022
It's only April, but the warm weather fun has already arrived in Central Ohio.
3XP Tours (short for pedals, paddles and pints) opened this weekend after hosting its official grand opening party. The new business, located at 5179 Northbank Rd. in Buckeye Lake, offers guided tours of the city's namesake lake, all while stopping at some of the area's best breweries, bars and restaurants.
Each tour will feature three to four different stops at establishments like Buckeye Lake Brewery, Buckeye Lake Winery and Waterfront on Buckeye Lake.
Tours, which are offered on either the eastern or western side of Buckeye Lake, typically take five hours to complete. 3XP held its grand opening launch party over the weekend, and its tour season is slated to begin on May 1.
You can book a tour for yourself here.
"We are crazy excited for our first season to start May 1st and show everyone how beautiful buckeye lake is, plus experience the brewery, winery and restaurants that are on our tours," said co-owner Jeff Comer.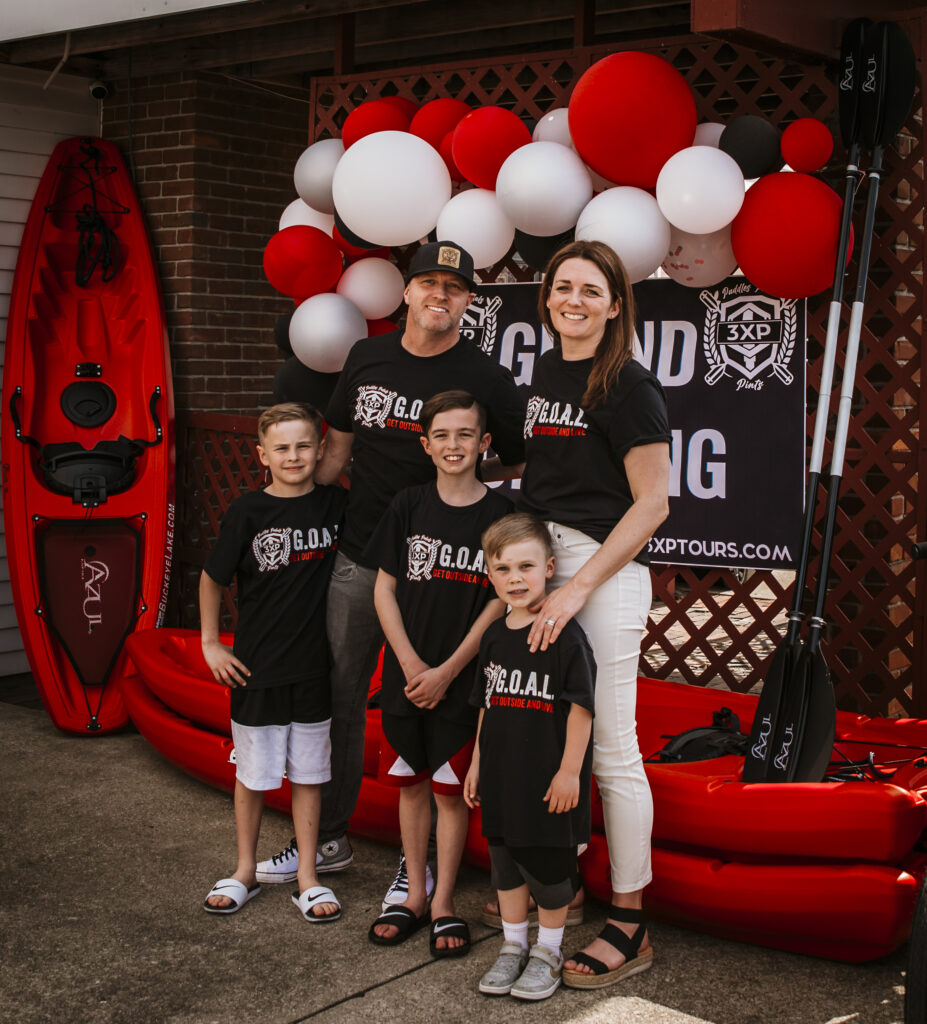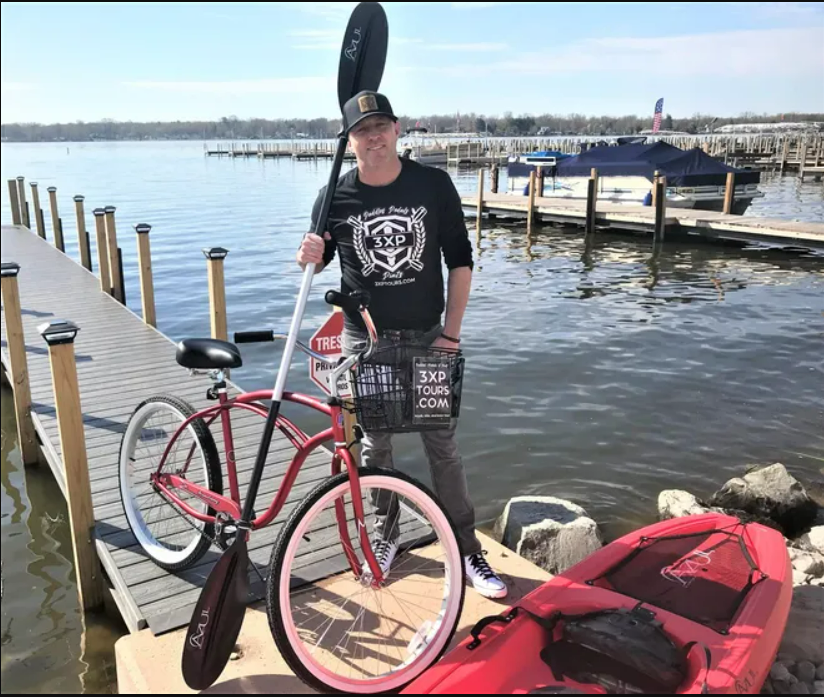 Business offers bicycle and kayak tours of Buckeye Lake featuring bar and restaurant stops
Columbus Dispatch/Lancaster Eagle-Gazette
May, 10th 2022
BUCKEYE LAKE — Jeff and Lynsey Comer have struck upon a unique way to see Buckeye Lake and its attractions with their 3XP Tours.
3XP Tours stands for paddles, peddles and pints.
"I actually take people out on tours," Jeff Comer said. "It's a kayak, bike and brews tour. It's the only one of its kind here on Buckeye Lake."
Customers can choose from an east tour or a west tour. The tours start with a 3- to 4-mile bike ride around the lake on the bike path and concludes at Buckeye Lake Brewery for drinks. Customers then walk to the adjacent 3XP office and board kayaks to other bars and restaurants for food and drinks.
Tours last about five hours with around an hour spent on the bike.
There is also children's tour called Kids and Kayaks where children get a 30-minute kayak lesson in a pond culminated by ice cream.
Jeff Comer can take a maximum of 10 people on a tour. Customers do not rent the bikes and kayaks and do not go out on their own. Instead, he leads them on the tours and said he would also take out only one person should that situation arise.
"We haven't had any single bookings, but we've had couples for date nights," he said. "And we've had a couple groups with six people where there's three couples booked."
Jeff Comer said he has arrangements with several Buckeye Lake bars and restaurants to partner with the tours.
"Last summer I started studying the trends of the lake," he said. "So I decided that, yep, we're going to go for it. There was nobody doing this on the lake. There's other companies that rent bikes, which is great, and rent kayaks. But there's nothing like this."
Comer said he and his wife both love the outdoors, which is one of the reasons they started the new business.
"We just wanted to be outdoors," he said. "We're always outdoors hiking, biking, overlanding in the Jeep, and we take our boys out a lot. So we wanted to create something that one, shows people the lake and how beautiful Buckeye Lake is now after they renovated it years ago. And two, we just wanted to be outside."
The business opened in November to try and catch some Christmas trade, Jeff Comer said. Its initial full season that will run through September.
Tours will start at 3 p.m. Thursdays and Fridays and at 10 a.m. and 3 p.m. on Saturdays and Sundays
Visit www.3xptours.com to book a tour, which costs $65 per person. Customers must pay for their own food and drinks at each stop.
740-681-4340
Twitter: @JeffDBarron

Tours offer a new experience at Buckeye Lake
By JERRY R. MAROLT III PERRY COUNTY TRIBUNE INTERN
Jun 7, 2022 Updated Jun 7, 2022
BUCKEYE LAKE — There is a new way to experience Buckeye Lake with 3XP tours. 3XP is a business that provides three different tours where participants bike, kayak, and visit local establishments.
The three tours are the west tour, the east tour, and the kayaks and kids tour. Currently, 3XP can host up to 10 people per tour. Each participant is required to sign a waiver before attending a tour.
The west tour is available now, with bookings open on Thursdays through Sundays. It lets participants bike and kayak all across Buckeye Lake, visiting stops such as Buckeye Lake Brewery, Buckeye Lake Winery, and Boatyard Tavern–N–Grill. The east tour will be launching this summer and has guests kayak the lake and visit stops such as Horvath's Harbor, Papa Boos, Flip Flops Dockside Grill, The Port Smokehouse, and Waterfront on Buckeye Lake. Tickets for the west and east tours will cost $65; the tours are around four hours long, and are available for those 21 or older.
The kayaks and kids tour will be available soon and has participants take a 30-minute kayaking lesson from a certified CPR guide, kayak for the next hour at Crane Lake, and then finish the tour with a visit to Dips on the Lake, an ice cream shop. The kayaks and kids tour will cost $30, is around two hours long, and is open to all ages.
Participants are encouraged to bring a swimsuit, a change of clothes, water, and sunscreen. Waterproof bags are provided for accessories that need protection during kayaking, as well as lockers for things participants wish to protect from damage during the tour. If a tour has to be canceled due to weather (which can happen, as 3XP takes safety seriously), it can be rescheduled at no extra cost. Safety equipment is required and provided, and food and beverages are not provided during the stops along with the tours, but participants can purchase whatever they like. As a bonus to buying a ticket, participants are provided with a backpack, waterproof phone case, and sunglasses to keep after the tour.
Lynsey Comer and Jeff Comer started the business in November and did several "holiday shows" leading into the new year and their current schedule. According to Lynsey, they've usually had six people per tour, with many couples taking tours. 3XP is currently one of the few tours available at Buckeye Lake, sharing the market with Captain Buck's pontoon boat tours and Buckeye Lake Historical Society and Museum's Queen of the Lake III boat tours.
According to Lynsey, the idea for the business came from the pandemic era when the Comers were brainstorming on how to "get outside and live more." They had done something similar in Traverse City, Michigan and because "Buckeye Lake was so close to home," they wanted others to come and "experience how cool it was." The community surrounding Buckeye Lake "has been excited for it," and support from their family, including their three kids, has been excellent as well, she said.
"Perry County is obviously a part of the lake," Lynsey noted. "The lake does sit in three counties, Fairfield, Licking, and Perry, but if Buckeye Lake is a place that you wanted to come to and you haven't come to, I definitely think this is the right time to start venturing here. They're doing a lot of improvements, obviously since the dam, but… if you're close to Buckeye Lake in Perry County, and you've never been, I would invite anybody to come out here and try it. There's so many little golden gems that are undiscovered out here."
They've gathered sponsorship support from all the businesses associated with the tours themselves. They've also had sponsorships from Marnita Swickard & Michelle Blizzard on behalf of e-Merge real estate, which covered their kayaks and bikes, as well as Matesich Distributing Co, who helped cover their life jackets, and in return, 3XP helps promote one of their brands, Bud Light. For most of these efforts, Lynsey credited Jeff, who has a professional background in marketing.
She thanked the Buckeye Lake Region Chamber of Commerce for being "so welcoming" and Escape to Buckeye Lake for helping get them moving "in the right direction." She also gave thanks to their current partners along the tours, such as the aforementioned business stops in the west, east, and the kayaks and kids tours, noting in particular, Chef Shack, who provides them a 15% discount per participant of 3XP.
Jeff and Lynsey also do some charity with the business as well. According to Lynsey, they both initially met as camp counselors and worked for the Detroit YMCA. They recognized "a lot of intercity kids that didn't have the means to go to camp, but through the Y, they were able to be afforded that opportunity." Considering this, and wanting to do something similar, whenever 3XP has a fully booked tour of 10 people, they will pay for a kid's trip to YMCA camp Tippecanoe. "Just so kids can get that experience that maybe they wouldn't have," she said.
According to the Ohio Department of Natural Resources, Buckeye Lake originated in the 19th century as a part of the Ohio Canal. After the canal's demise, the area became "Ohio's oldest state park." It featured a dance hall and amusement park that made the location very famous, but neither of these attractions exists today. Currently, the area promotes boating, hiking, fishing, picnicking, swimming, waterfowl hunting in season, and winter recreational activities, among many other things.
You can contact 3XP at their email at [email protected]. They encourage all interested participants to check out their website at 3xptours.com, their FAQ page, and their Instagram or Facebook page @3xptours.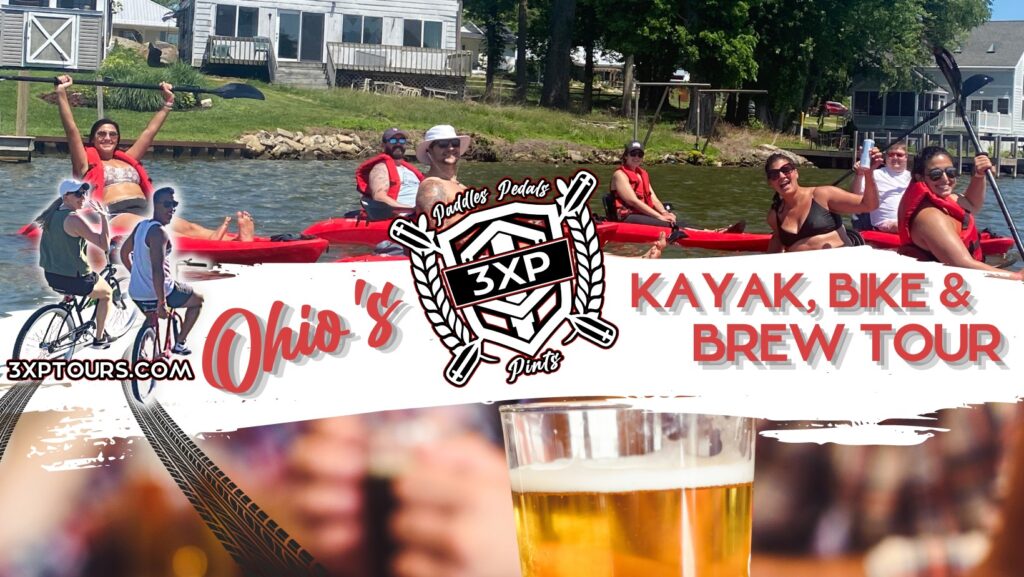 The 15 Best U.S. Small Towns for a Summer Vacation
These fetching towns will put you under their summertime spell.
By
Published on May 27, 2022
You'd be hard-pressed to find a village more classic Americana than Buckeye Lake. With a population of 2,805, it's a place beloved for its lakes, which are far less crowded than its larger counterparts. For a home away from home, book a few nights in one of its beautiful lakefront cottages.
Then, wake up refreshed and start the day with a jog or power walk along the Buckeye Lake Dam Walking & Biking Trail, preferably with a cup of coffee from Millersport Coffee. Next, it's into the pristine water you go. Try the new 3XP Tours kayak-biking-brewery expedition that guides you on the lake, trails, and into some of the best breweries (and wineries and restaurants) around town. Or, skip the formal tour and rent a kayak or pontoon for the day and embrace lake life on your own. Then, wind down with a glass of wine at Buckeye Lake Winery, and finish with a nightcap at the beach bars or Weldon's for ice cream.